Is this now the end of mini toiletries in hotels - at last
18 April 2019 | Admin
Each year, hotels all over the world toss millions of half-full mini toiletry bottles into the bin. This not only contributes to the very serious issue of what to do with all our excess plastic. It's encouraging to see,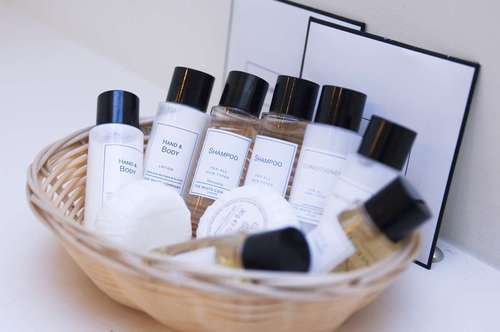 therefore, that California is considering a statewide ban on mini toiletries in a bid to tackle plastic waste. The bill was introduced in February and approved by the State Assembly, leaving it up to Governor Gavin Newsom to decide whether to pass it as a new law.
If so, hotels and other "lodging establishments" in the Golden State would be prohibited from offering amenities in plastic bottles sized 340ml or under, or face a fine of up to $2,000. The legislation, if approved, would come into play at the start of 2023.
The best replacement, in lieu of personal-sized products, would be refillable bulk dispensers, the likes of which you'll often find in gyms and spas. For hotels, this would be a far cheaper and easier option.
The Marriott Hotel made the switch from miniature toiletries to refillable wall-fixed dispensers in 2018 across more than 450 properties after revealing that an average hotel gets through upwards of 23,000 small bottles a year. The Hoxton, which has properties in Shoreditch, Holborn and Amsterdam, has followed suit.
In 2009, Shawn Seipler started collecting, sterilising and recycling leftover toiletries from Florida hotels and shipping them off to hospitals and care centres in countries that needed them. Thus far, hotel partners include Hilton, Disney and IHG - and more than 48 million bars of soap have been sent to 127 countries, and counting. Closer to home, Beauty Banks re-distributes unneeded bathroom products to homeless shelters around the UK. (extracts from Annabel Fenwick Elliott)
This day an age we need to re-think of old standard practices within the leisure industries - we at Green Bear have been involved with concentrated products since before it was hip to be green or Eco by producing GBPro concentrated cleaning products, saving on toxicity in the home or business and of course saving on plastic. Now we seem to have a momentum, now lets see this does not just become a novelty phase.