Loyalty Points
GREEN BEAR EXTRA BONUS REWARDS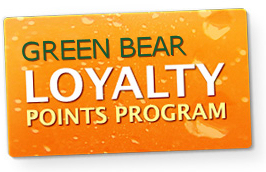 All of us at Green Bear both here in the UK and in the Netherlands would like to thank you for your loyalty to-date. We are pleased to have many of you come back time and time again, so therefore we have initiated a loyalty point program where you are rewarded for your continued support.
Loyalty points are automatically assigned to your account.
For every £1 you spend will earn 1 GBUK Loyalty Point. These points can then be redeemed against your next order, or saved up to be used against future purchases.
You will be told how many points you have been awarded when you checkout and in your confirmation email. You can also check your loyalty points value at any time by logging into your account and clicking the "Order Information" tab.
Points are equivalent in value to 1p of the price of any items you purchase (excluding delivery charges) so for every £1 you spend we will give you get equivalant to an extra 1% back to use against future orders. These Green Bear Loyalty Points can be used in conjunction with other discounted offers that are advertised in our "news Letter", on our "news" page or front page of the website.
You must be logged in to your account before checking out in order to redeem your points. Then simply tick "Use Points" box in the checkout basket and the discount will be applied to your order giving you an instant discount!
TERMS & CONDITIONS
For each £1.00 spent 1 Loyalty Point will be awarded (excluding any P&P charges). A Loyalty Point is worth 1p.
Not redeemable for cash, minimum 100 points to apply against an order.
Returns/refunds - then the relevant points will be deducted from your points balance.
Loyalty points are valid for 24 months.
GBUK Loyalty point scheme is in effect from 10-05-10. We are sorry but loyalty points can not be issued retrospectively.
GB Loyalty points can not be used in business or wholesale categories
The loyalty point scheme is subject to Green Bear UK terms & conditions.
Any Other Questions?
Please do not hesitate to contact us if you have any other questions.