Agripure: Answer for non toxic cleaning of Fruit & Veg
12 November 2021 | Admin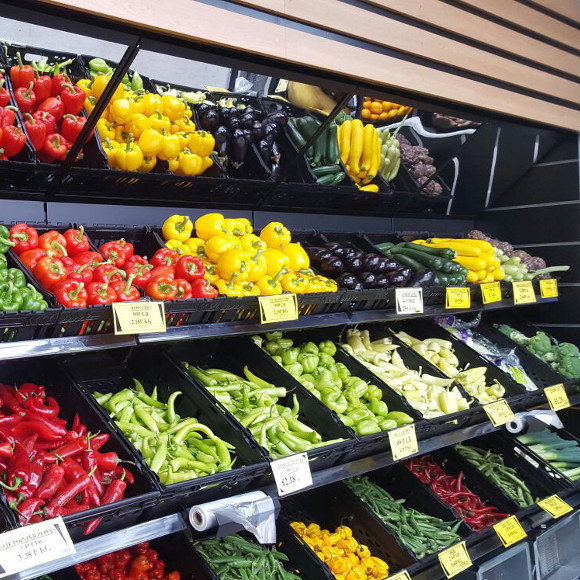 With the trend for now buying Fruit & Veg loose to save on plastic and the environment, we can introduce you to the new way of sanitising fruit & Veg without using the conventional toxic chemicals used by the industry. Now, with Agripure you can sanitise your fruit & veg safely for you and your family the way Supermarkets are now starting to do at production level.
No need to rinse. Eliminate the concern that other people have been handling your product before you and for the trade & catering industry who juice, make the customer feel comfort knowing you are making every effort to sanitise the product before juicing.
We supply in 250ml atomiser & 5L refill to save on plastic - trade order can bespoke container sizes related to your requirements - Fruit & Veg Packaging Producers, please call our support line.
KILLING POWER
Whilst other fruit and vegetable washing products simply wash dirt, wax and pesticides off products, Agripure completely sanitises products killing 99.9999% of germs that cause food poisoning as well as Covid-19
The FSA estimate that there are 2.4 million UK cases of foodborne illness each year. Agripure F&V Spray kills Norovirus, which is prolific in lettuces (in fact 30% of all norovirus cases in the UK are caused by lettuce contamination) and also kills C. difficile amongst other pathogens
Raspberries are also a big cause of concern, two thirds of foodborne illness outbreaks are caused by viruses and there are over 125 published papers on Norovirus in soft fruit, the majority concerning raspberries. Approximately 5,000 cases of norovirus in people having consumed previously frozen soft fruit and the Danish outbreak (2004, 1,100 cases, frozen Polish raspberries) was traced back to raspberries that had been frozen for over 12 months before use. Agripure is unique in that it can be sprayed on raspberries, killing any pathogens whilst not damaging the fragile fruit
Agripure is used and trusted by Marks & Spencer with it being used in its fruit and veg supply chain to eradicate germs prior to packing
SUSTAINABLE
Whilst Agripure kills bugs that cause food poisoning it also kills the same bugs that cause spoilage meaning that Agripure can extend shelf life too and with over 170,000 tonnes of food waste in the fresh produce supply chain every year plus the c.500,000 tonnes of fresh produce wasted in hospitality and food service and c.2.5 million tonnes of household food waste generated every year Agripure can help reduce some of that wastage
And it's not just on fruit and veg - Agripure kills bugs on all surfaces so is perfect for all shopping, work surfaces, chopping boards and other kitchen equipment.
TRUSTED
As well as being trusted by the likes of M&S and Waitrose, Agripure complies with BPR EU528(2012) has been tested to the following standards; BSEN1276, BSEN1650, BSEN13727, BSEN14474, BSEN 13697
CARING & PURE
Unlike other fruit and veg "wash products" there is no need to rinse Agripure off prior to eating. Agripure is made from pure hypochlorous acid, the same chemical produced by the human immune system to kill invasive pathogens and therefore is pH neutral and as gentle as water to humans - no PPE or gloves are needed to handle it
Agripure contains only hypochlorous acid; no alcohol, no petrochemicals, no sulphates, no bleach so there are no hazard warnings on pack and there is no risk of any undissolved chlorine tablets or concerns about residues being left on produce
Agripure is vegan friendly and organic
It is suitable for all fruits and vegetables, even the most fragile.
Extend life of product and save money in the process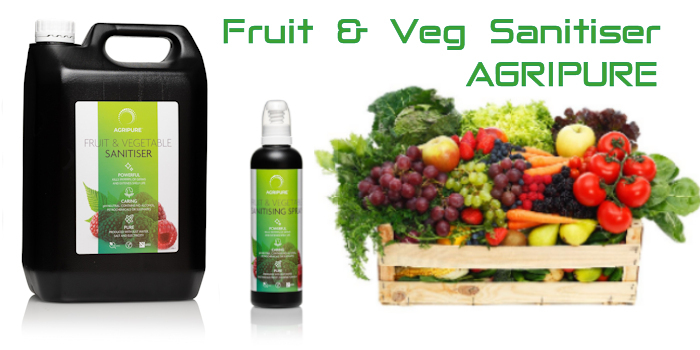 References used for statistics:
https://www.food.gov.uk/news-alerts/news/fsa-research-suggests-new-higher-estimates-for-the-role-of-food-in-uk-illness
https://wrap.org.uk/taking-action/food-drink/food-types/fresh-produce