Squeegee Facts, History And More!
13 May 2020 | Admin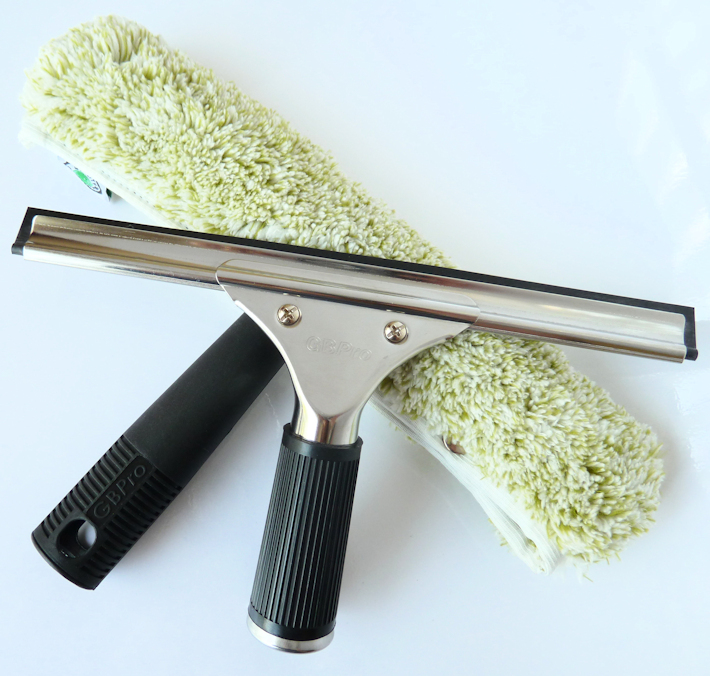 Squeegee Facts, History & Best Uses
When I'm Cleaning Windows!
You can no longer put that pesky task off, finally the time has arrived for you to clean your windows, you're grown tired of counting all the smears and grime spots and trying to see the outside world through a sheen of dirt and grease!
Essential Window Cleaning Kit
If you're wondering what equipment you should use to get sparkly, smear free windows, according to window cleaning experts, to get the best results your kit should include buckets, sponges, squeegees, scrapers and blades and window cleaning liquid.
But what is the top tool to ensure you get gleaming, clear windows? The first and possibly the most important tool for professional window cleaning is a window squeegee.
What Is A Squeegee?
Squeegee is such a funny, comical name for an instrument to clean windows don't you think? According to Wikipedia the name "squeegee" may come from the word "squeegee", meaning press or squeeze. Cambridge Dictionary describes a squeegee as, "a tool with a rubber blade and a short handle that is used for removing water from a surface such as a window or mirror after it has been washed."
Squeegee History
With regards to its history, the squeegee goes back to the Middle Ages, when fishermen scraped fish guts off boat decks with wooden swabs called "squilgees." It wasn't until the turn of the 20th century that window washers adopted a rubber-bladed version of the tool. The modern single-blade window cleaning squeegee was patented by Ettore Steccone in 1936; who dubbed it the "New Deal."
Squeegee Appearance
In terms of appearance, most window squeegees have the appearance of an uppercase letter 'T', consisting of a long bar with rubber strip, or 'blade' as it is called, and a handle that depending on its use, can be quite short or very long.
How to Use
A squeegee is typically used by placing the blade on the wet surface to be cleaned, and pulling the tool across the surface, applying pressure to the blade towards the direction the tool is moving, and in so doing, ensuring liquid and grime are not missed. The usefulness of the squeegee comes in its ability to move or remove large quantities of liquids, including cleaning solutions and dirt in a short time. Considerations to make when purchasing a window squeegee include its size, quality of finish and durability.
Eco-Friendly Squeegees from Green Bear UK
Here at Green Bear UK our GBPro window squeegee is made from extra strong high grade noncorrosive brushed stainless steel with rubber grip handle. This strong and durable wiper is a professional product utilised by the trade & industry for the ultimate cleaning performance. This also means that you have 2 sides of the rubber to use (unlike cheaper versions) making it an all in one stress free and most importantly, energy saving and streak-free when cleaning your windows.
Adjustable from side to side as required by a sprung clip design, using a unique back plate on the handle to hold the rubber in place. The rubber strip stays soft and supple and is not going hard and brittle like other cheaper versions - replacement is easily ordered from us when required. Can be used by hand or with our very own telescopic rod (sold separately), and for the complete job accompany with these additional products from GBUK: -
GBPro Glass cleaner + Degreaser (for streak clean surfaces)
GBPro high quality Microfibre window sleeve (Micro tiger)
GBPro T Bar Holder for Micro Tiger sleeve
GBPro High quality Microfibre cloths
GBPro T Holder
GBPro Lightweight telescopic window pole with free angle adaptor
Compliment with Our GBPro Microfibre Sleeve
Our GBPro window squeegee is complimented and can be used to achieve best results with our GBPro Microfibre sleeve. With our microfibre sleeve, all you'll need is one of our spray containers filled with just water or for more stubborn stains, our Green Bear Glass Cleaner with degreaser. Spray a little direct onto the window, soak our Micro-Tiger first on the T Bar and squeeze the excess out until it's just damp and let the engineering of the microfibres do the work for you.
Treat Your Windows with A Professional Clean by Using Our GBPro Product Range
Once you've tried our GBPro range to clean your windows, you will be amazed how easy it is. Our GBPro range provides all the tools you'll need to wash windows. No need for buckets of water, those days are gone! With our products, there is no more need for toxic chemicals or sweat and toil. So, what are you waiting for, don't put it off any longer, head over to Green Bear UK online store to purchase the very best eco-friendly window cleaning kit https://www.green-bear.co.uk/window-cleaning-products.html