---
GREAT NEW PRODUCT RANGE!

Just launched on Green Bear is the new
Paul Penders
range of 100% Natural Organic Cosmetics along with the
Caribbean Blue
Sun treatment range.
Paul Penders -
hailing from Holland,
is an active environmentalist and avid animal rights activist who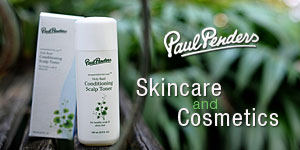 incorporates his beliefs into his skincare and cosmetics. His philosophy of "
No chemicals
" and "
No animal testing
" started with shampoos and later on evolved into a bounty of new skincare products for people of all ages.
Paul created "LevensESSENTIE" (meaning "life's essence" in Dutch), an intensly concentrated herbal extract containing 23 organic or wild herbs collected from around the world, incorporating this into his range of products.
All Paul Penders skincare is:
Cold Blended to retain full strength of ingredients
Free from artificial preservatives, colours and perfumes
Free from petrolatum, SLS and propylene glycol
10% off introductory price
Just enter pencar03 at checkout
valid until 14/03/2011
A selection of the newly available products:
Natural Skin Toner (Chamomile, Orange & Moringa) - £15.50

For all skin types. This unique alcohol-free herbal skin toner has been specially formulated for all skin types. Chamomile and Moringa extracts effectively restore natural moisture balance whilst removing impurities from the surface of the skin.

Natural Cleansing Milk (Rosemary & Calendula) -

£15.95

For normal to dry & sensitive skin. With fine plant-derived oils, certified organic herbs and uplifting rosemary essential oil that gently cleanses skin; this natural facial cleanser effectively removes dirt and impurities to leave skin soft, smooth and fresh.

Natural Plantago Essential Eye Gel - £27.50

Plantago is known as the 'wonder herb of the 2lst century' and not without reason! Paul Penders Plantago Essential Eye Gel helps lessen eye bags, dark rings, shadows, signs of fatigue, lines and wrinkles in the eye area and helps reduce puffiness.

Natural Herbal Citrus Fruit Exfoliant - £19.95

Clarifies & Refines. Regular use of this non-abrasive herbal exfoliant will reveal soft, fresh, healthier-looking skin. Formulated with natural AHA's & BHA's that gently remove the outer layer of dead skin cells, this all-natural exfoliant will gently unclog pores and sweep away dead skin cells, leaving the skin softer and noticeably clearer.
For more products, moisturisers, shampoo etc... go to our beauty section
Caribbean Blue - 100% Natural Sun protection
Caribbean Blue believes in using only the best, natural ingredients, which add value to your health, and never using anything which burdens it. Developed by two Doctors in St Lucia for the benefit of their new baby. The just wanted to ensure that only the best natural products would be used on their first born baby boy.
Caribbean Blue Baby SunShield SPF15 - £13.95

Baby Sun Shield can help reduce prickly heat rash and is a unique 100% all-natural formula developed for the health conscious consumer & for the most sensitive skin types. Instead of synthetic chemical ingredients, it contains natural zinc oxide to soothe and protect the skin.
You will find more information in the product info page. Check back as we are currently updating pages on both Caribbean Blue and Paul Penders.