Green Bear's Own New Brand 'SALTZ' Now Launched
21 November 2016 | Admin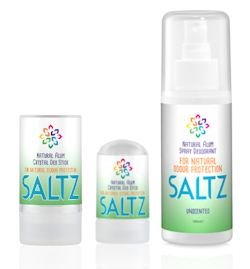 Great News!
Our own deodorant is very economical and can last for many months with proper care. Unscented and unisex, it offers 24 hour protection. Not tested on animals and free from alcohol, aluminium chlorohydrate, parabens, fragrance and propellants.
Well you can stay fresh and deodorised naturally without the use of chemicals and without blocking the skin's pores or leaving white marks on your clothes. Read more on the product page – 'SALTZ' - wihich is part of our new Amity range produced by us at Green Bear UK
Our Spray is brilliant and we are so excited about the feedback, it's made up with natural Crystal salts and the spray has an improved formula, giving you an all important drip-free application with moisturising from the added aloe vera, our unisex Spray offers the most effective long-lasting protection against body odour. Made from 100% natural ingredients and fragrance-free.
Spray is designed to sit on the surface of freshly-cleaned skin, inhibiting the growth of odour-causing bacteria. No white marks. Approved by the Vegetarian and Vegan Societies.