New offers & Eco Village......
5 August 2010 | Admin
New offers & Eco Village......

Just to update you that we had a great time at the Kent County Show (July 16th-18th) and a special thanks for those that came down to meet us at the stand. Its alway good to see the people associated with the voices on the other end of the phone. A special thanks to all the organisers at Eco Village helping us during the 3 days....... to be honest, it took a week to recover. and a special mention to the guys of BigGreenBook and Ally with her demonstrating skills & techniques at Mama Natura.
ECOVILLAGE DISCOUNT OFFER - 15% OFF:
We are continuing the special discount offer of 15% from the Kent Show for the month of August, giving you the chance to make serious savings - Just use the code "ecovil0615" when you next go into checkout
Kenyan project: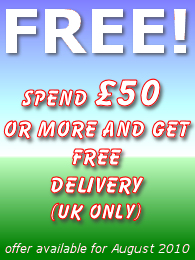 A good experience and some interesting projects proposed, one got us all interested was a project in Kenya where they needed natural cleaning products that are void of any salts (normally found in the cheaper products) so that they could be safetly disposed in the ground and not effect the water table and subsequently, the plant life surrounding the Safari Cabins overlooking the National Park. Having lived in Kenya for awhile & Tanya just returned this year from some Voluntary work at an Orphanage for HIV kids..... this one is of great interest to us.
FREE DELIVERY*:
We have re-established the Free Delivery if you spend £50 or more for the month of August. More great savings, making your life easier being green
LOYALTY POINTS:
check out our new Green Bear loyalty points system - always trying to give value for money