Green Bear supplies Virgin Atlantic
27 January 2010 | Admin

VIRGIN ATLANTIC GOING GREEN WITH GREEN BEAR UK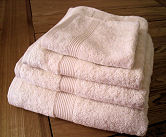 Our new range of Bamboo products are proving very popular, especially our new Bamboo "Elegance Range" and we are happy to say that one of our new customers is now Virgin Atlantic. As everyone knows, Virgin Atlantic along with Richard Branson, have made more in-roads into making their airline more sustainable than any other major airline and we can now testify to this first hand. The Green issue is very prominent on Virgin Atlantic's agenda and Green Bear UK are very proud to be a part of that drive.
Virgin Atlantic have commented "We are really excited to be switching to Bamboo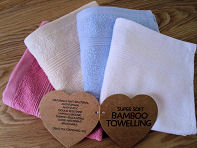 face cloths in our Upper Class Clubhouse at Gatwick Airport, as our premium passengers will get to dry their hands safe in the knowledge that they're helping reduce waste, reduce energy and water consumption, and contributing to making the airline just a little bit more sustainable".
Elegance Range is available in four colours, sold as a set or individually, the best buy on the market with it luxurious feel and anti bacterial properties along with other features of bamboo, this is a must for your family. By buying the set you can save 10% on the purchase price. Read more details on this incredible bamboo yarn on our GBUK website, you will be amazed of its benefits to the carbon foot print.
You can do your bit now, with a little effort to substitute chemicals for natural product - products that do a better job naturally and are affordable at the same time, which makes a change eh!........ The affordable part I mean, this myth that natural products cost the earth....... as far as Green Bear is concerned, its a resounding "no". We have spent 2009 developing natural products, improving formula's and keeping the price affordable but, maintaining the high quality of our product range. This will all be introduced onto the website in 2010.
Thank you all for your support and custom over 2009 and we wish you a great 2010 from all the gang at Green Bear both here and the Netherlands.