New Natural Cosmetic Range
11 May 2009 | Admin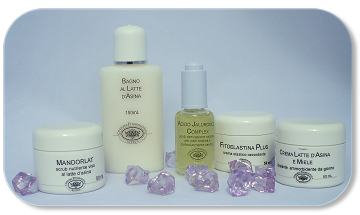 We have now introduced 5 new products to our natural cosmetic range in our beauty section. We think that occasionally you should be able to pamper and treat yourself naturally, so have decided to expand our Beauty range.
Through our partners at VIP with have bought in very high quality brand called "Officina Fitobiologica" of Milano Italy it's a handicraft workshop, which is a partner of the Italian Association of Cosmetic Industries (UNIPRO). All their products are handmade and produced to the highest quality for the face and body with more lines to be introduced in the near future.
The rapid pace of life makes it easy to overlook the importance of having a balanced relationship with nature these days but more and more of us are now turning to natural products and this is where we want to service your needs with a brand you can trust.
This brand and method of production has been established since 1977, designing and producing themselves with high quality and unique formulas, a standard that has been popular with celebrities and the chosen few..... now we have the opportunity of offering you these same products at an affordable price. The products have been carefully selected to provide a beautiful natural, organic skin care range that contains no nasty petrochemical or toxic ingredients.
All products are free from any animal by-products and it goes without saying, all products are completely free of animal testing. We are happy to say that Green Bear are able to bring these products to you at well below normal expected pricing of such a high quality brand, allowing you the opportunity to experience these unique natural cosmetics...
for more details go to our beauty section