Ora Naturals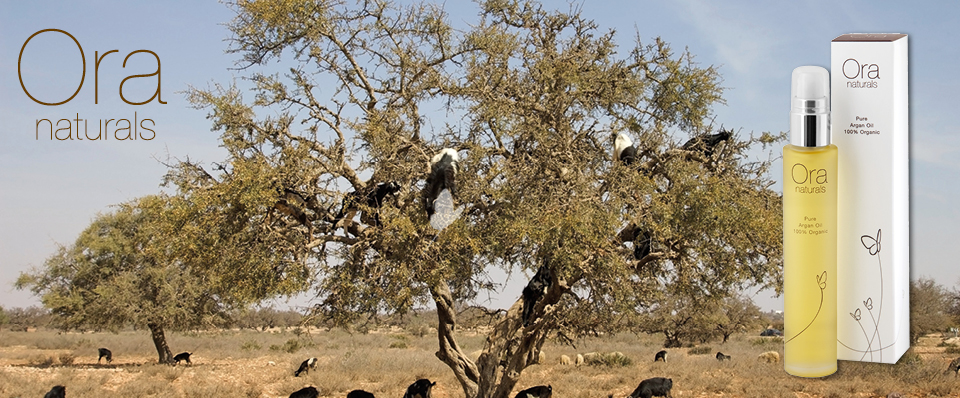 Argan Oil
Believed to be the rarest oil in the world Argan Oil is extremely rich in Omega 3, 6, 9 and naturally occurring Vitamin E, which moisturises and enhances skin repair.
Derived from the kernels of the Argan fruit from the ancient Argania Spinosa tree, Argan oil has been used for centuries by the Berber tribe of women in Southern Morocco as a natural skincare product for its wonderous anti-ageing properties.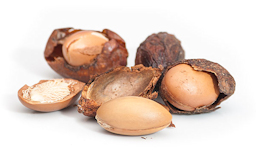 Why Choose Argan Oil
As well as being one of the World's rarest oils, Argan Oil has one of the highest concentrations of naturally occurring Vitamin E with a staggering 640mg/kg. In comparison Olive oil contains about 320mg/kg.
Argan Oil is therefore an exceptionally powerful antioxidant making it ideal for skin and hair repair as well as a natural anti-ageing product. It is for these reasons that Argan Oil in one of the most sought after plant oils in the World today.
In addition to the Vitamin E content, Argan Oil is also renowned for its unusually high concentrations of Omegas 3, 6 and 9, the essential fatty acids. Omega 6 (Linoleic acid) in particular is present in Argan Oil at concentrations 3 times higher than in olive oil and plays a key role in preserving skin cell integrity through the restoration of the skin's hydro-lipidic layer. This action significantly increases the skin's ability to retain moisture, keeping it plump, healthy and less prone to forming fine lines and wrinkles.
Further components of Argan Oil also include carotenoids, phenols and saponins which further enhance the skin repair action of this oil.
Most important is the quality of the Argan Oil and being a natural product, this varies in a similar way to wine. The variation in quality is partially down to the year to year variation in the harvest, just like any other plant product but is mostly dependant on the method of manufacture.
At Ora Naturals they work with some of the leading cooperatives in Morocco. These cooperatives are highly regulated and therefore adhere to a strict code of modern production and manufacture, resulting in an exceptional quality of Argan Oil.
Uses for Argan Oil (Quick list)
Mositurising Face & Body - it's great for anti-aging.
Helps reduce fine lines, blemishes and wrinkles
Hair - Makes hair soft and great for the Scalp

Psoriasis & Eczema
Dermatitis
Nails - Particularly Cuticles
Reducing Bruising / Scarring
Stretch Marks (helps to prevent stretch marks during pregnancy and reduce the appearance of stretch marks afterwards)
Insect Bites
Acne / Spots
Uses For Argan Oil
FACE & SKIN
Argan Oil softens skin and increases elasticity to help reduce fine lines, wrinkles and blemishes. It is packed with Omega 3, 6 and 9. When Omega 6 (linoleic acid) is applied to the skin it has anti-inflammatory, moisture retention and acne reducing properties. Argan Oil also regulates sebum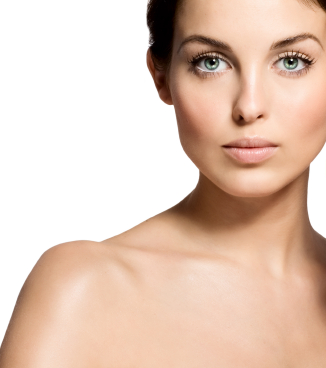 which makes it equally good for oily skin as it is for dry skin.
Argan Oil is an antioxidant, packed with Vitamin E which makes it perfect to protect against premature ageing and skin damage caused by harsh environmental conditions such as sun exposure and pollution. Sterols are lipid-like compounds known to improve skin metabolism and restore the skin's natural lipid barrier. They leave the skin feeling soft while reducing inflammation and delaying the ageing process. Skin aliments like psoriasis, eczema, dry skin and scars are all soothed by Argan Oil.
TO USE ON FACE: Warm a small amount in your hands then apply in circular motions to the face at night. Take care around your eyes.
TO USE ON BODY: Massage a generous amount into affected areas as often as needed.
MOTHERS & BABIES
High concentrations of essential fatty acids like Omega 3, 6 and 9 found in Argan Oil are necessary to maintain healthy levels of hydration which increase skin elasticity and aid in preventing stretch marks during pregnancy and help to reduce stretch marks after birth.
Protein-rich Argan Oil helps prevent, treat and soothe nappy rash. It keeps baby's delicate skin silky soft and naturally protected, an ideal daily barrier for sensitive baby bottoms. Argan Oil is non-greasy and absorbs quickly into the skin making it excellent for use with cloth nappies.
TO USE: Massage a generous amount all over baby as often as needed. Ideal to use after bathing and before a clean nappy is put on.
HAIR
Hair growth & strength: Natural antioxidants present in Argan Oil strengthen the hair by repairing its damaged cellular membrane. Argan Oil penetrates into the hair shafts and enhances the elasticity of hair. It also proves to be very nourishing for hair growth.
Softness, shine & de-frizz: Non-greasy Argan Oil locks the moisture in and adds to and restores the lustre and shine of hair. Argan Oil is very good for uncontrollable and unmanageable hair, restoring the smoothness of hair by hydrating naturally and making it manageable again.
Repair split ends: Argan Oil is rich in Omega 3, 6 and 9 which are a direct source of essential nutrition for hair and roots, thus increasing strength and healing split ends.
Heat & colour protectant: The presence of Vitamin E in Argan Oil is very useful in restoring, renewing and repairing hair from the damage caused by many external and internal agents like heat styling, colouring and oxidization which damage the hair and make it brittle. Argan Oil can also increase the life of colour treated hair.
TO USE: There are several ways to use Argan Oil on your hair.
1. Simply add a few pumps of Argan Oil to your normal conditioner as you use it.
2. Apply a generous amount of Argan Oil to cover your hair, leave for half an hour then wash as normal (you may need to wash your hair twice with shampoo).
3. Apply a generous amount of Argan Oil to cover your hair, leave overnight (cover with a towel or scarf if preferred) then in the morning wash as normal.
4. After each of the above applications, add a few pumps of Argan Oil to your hands and rub through your hair. This will add shine and softness, help your hair to dry faster and protect while heat styling.
NAILS
Argan Oil softens cuticles and strengthens nails against breakage. It also gives your nails a healthy radiance.
TO USE: Mix equal parts of Argan Oil and lemon juice in a small bowl and soak you nails for 10-15mins, rinse with water then pat dry. Alternatively, add a few drops of Argan Oil onto your nails and massage into the cuticles.
Ora Naturals
Ethical
Almost 90% of the money Ora Naturals pay for their Argan Oil goes back to the Berber tribe women who produce it for them. The women are able to work full and part time depending on their circumstances and are paid accordingly, with the profits from the Argan Oil sale going back into the community through initiatives of training and elimination of illiteracy.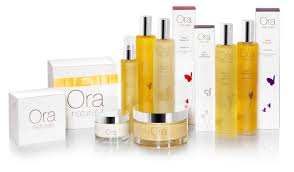 Traceable
All the Argan Oil nuts are traceable back to the tree that they were grown on. All the Co-operatives that supply Ora Naturals use the same recording systems which ensure consistency and quality.
Highest Quality
Ora Naturals import only the highest quality Argan Oil. All Argan kernels are quality controlled and only the very best kernels are used. After the oil is pressed it is filtered 3 times to remove impurities. Finally each batch is scientifically tested and the analysis is sent to us so we can decide if it meets our quality standards.
Sustainable
The Cooperatives we work with follow Fair Trading standard and teach the women about the conservation and reforestation of the Argan trees. Every year each worker plants 10 new Argan trees and as they have begun to realise the economic growth related to the Argan trees, villagers are becoming more aware that they need to protect the forests.
Ethos of Ora Naturals
"Our aim is simple. To source naturally occurring ingredients from around the world to produce a luxurious brand of skincare products and in return to support and celebrate the communities that provide us with these wondrous products. All our products are free of Parabens, pegs and petrochemicals for a highly natural and organic range"
Local
Ora Naturals was founded by Natasha King and Steve Williams. All their products have been developed by them in the UK and most of their suppliers are from the UK. Along with their pure Moroccan Argan Oil they also use Manuka Oil and Totarol from Natasha's native New Zealand.